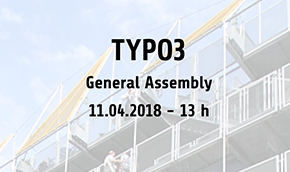 Team Leader Workshop
In the morning before the GA, our Team Leaders met for a common workshop. Mathias Bolt Lesniak moderated the workshop and we started with some nice exercises to melt the ice.
We tried to find answers to these questions:
how can we improve the inter-team collaboration
how can we enlarge the contribution base
what can we do to solve problems within teams
At the end, we had a bunch of ideas which we want to implement
A central person/group for enabling / educating team leaders on running teams. We need to find that person, is it you?
We want to offer an additional workshop for Team Leaders in 2018 on facilitating group processes
See Teams as service providers to each other: Actively offer services to the other teams
Info on how teams work. Susi Moog already created a nice draft, which will be implemented in typo3.org
Use common tools, platforms, and resources ⇒ mainly an organisational approach – this should not lead into discussions about technical tools!
Inter-team communication – talk more often, talk early, say less
Provide workflow information: how can I get support from the team; how do I get feedback about my open questions?
Ombudsperson: A board member should take on this responsibility
Change of the By-laws
We continue our process to renew the TYPO3 Association. As announced in November 2017, the General Assembly decided to change our by-laws. You can see all changes in detail at typo3.org/article/on-the-way-to-a-leaner-more-transparent-association. Here is the quick summary:
The Expert Advisory Board (EAB) is now disbanded and the Board takes over all responsibilities.
The Board can now consist of six to nine members (which is a smaller Board, if you count the old EAB and Board together)
The Board will be elected by the members in a direct election, instead of through an indirect election by the EAB
We have now more options to solve difficult situations (i.e. if a conflict happens within the Board, or if people are leaving the Board)
In the end we hope that we can create faster decisions and can react more flexibly.
Elections
For the last time, the Board was elected by the EAB. Olivier Dobberkau was re-elected as President, Stefan Busemann as Secretary and Mathias Bolt Lesniak as First Assessor.
For the EAB we had four open positions, but only two nominees. As we plan to reduce the size of the Board it is acceptable. For the election in 2019, we still hope for more nominees. We congratulate Robert Lind and Rino Razzi on their re-election.
In the BCC Jochen Weiland was re-elected. We are happy that we can present a new face on the BCC: Daniel Bachmann is now part of the BCC for the first time. 
Overall results and outlook
The last year was very successful for the TYPO3 Association. We reported that we were able to increase our revenue. Further the TYPO3 company needed less money than expected. This opened up the opportunity to increase our running budget. We are very optimistic that we can keep our course.
 
Read Original
Author: